Annually 8 million work days are lost due to intimate partner violence (IPV). If you're ready to make a commitment to a safer and more supportive organization climate to not only support your employees but also protect and improve your business, below is information provided by Harmony House to help you get started. These resources are curated to help owners, managers and workplace colleagues learn how to recognize and respond if an employee is experiencing intimate partner violence (IPV).
This Employer Toolkit includes model IPV policies, incident response tips, informational posters, four employee training videos totaling less than 30 minutes, and local/national organizations that can help victims of IPV.
—
Company Resource Downloads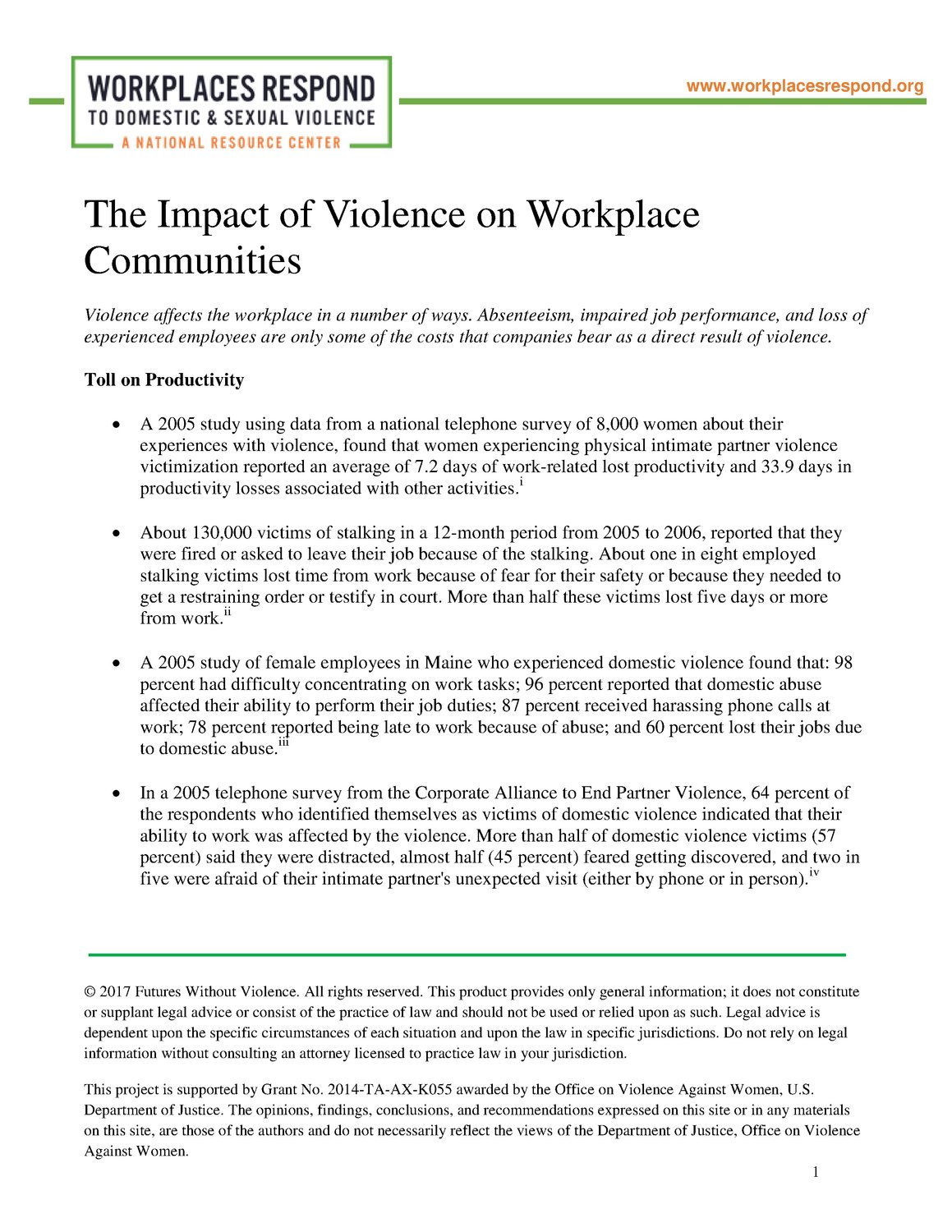 The Impact of Violence on Workplace Communities PDF Violence affects the workplace in a number of ways. Absenteeism, impaired job performance, and loss of experienced employees are only some of the costs that companies bear as a direct result of violence. Download this document to learn more about how violence affects the workplace.
—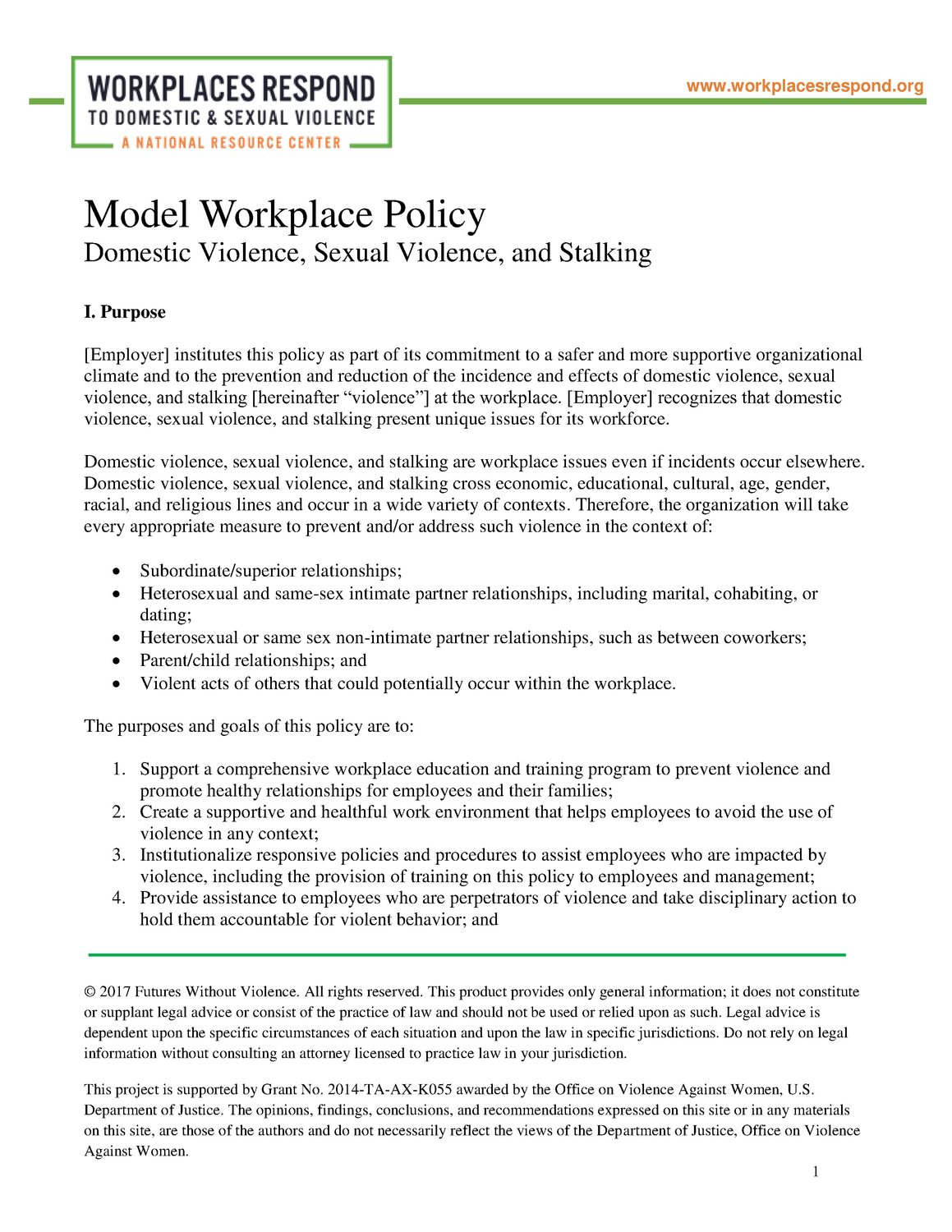 Model Workplace Policy: Domestic Violence, Sexual Violence and Stalking PDF Not sure how to develop a company policy to show your commitment to a safer and more supportive organization climate? Download this model policy to outline the appropriate measures to prevent and/or address violence.
—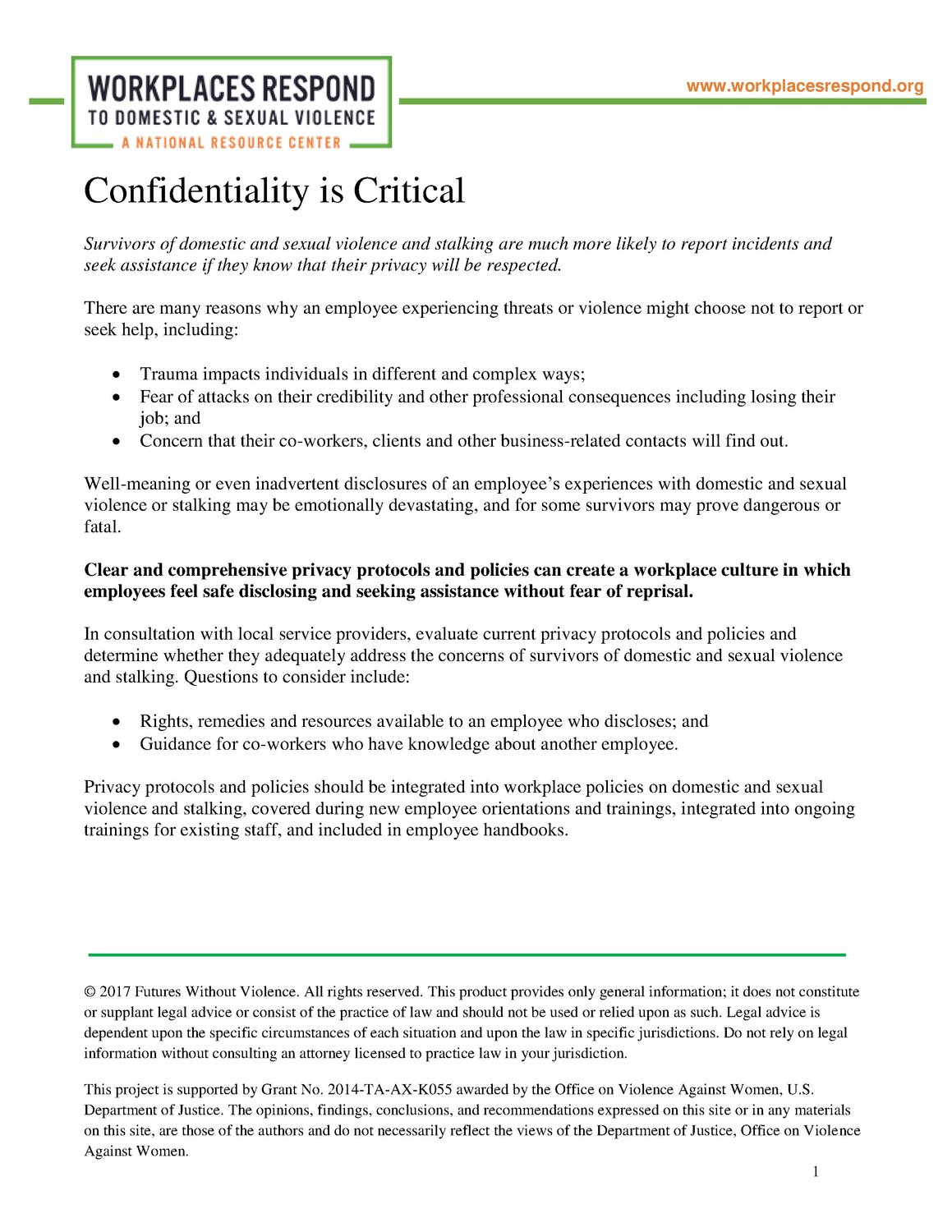 Confidentiality is Critical PDF Survivors of domestic and sexual violence and stalking are much more likely to report and seek assistance if they know that their privacy will be respected. Download to learn more about the policies and procedures you can put in place so employees feel safe disclosing and seeking assistance without fear of reprisal.
—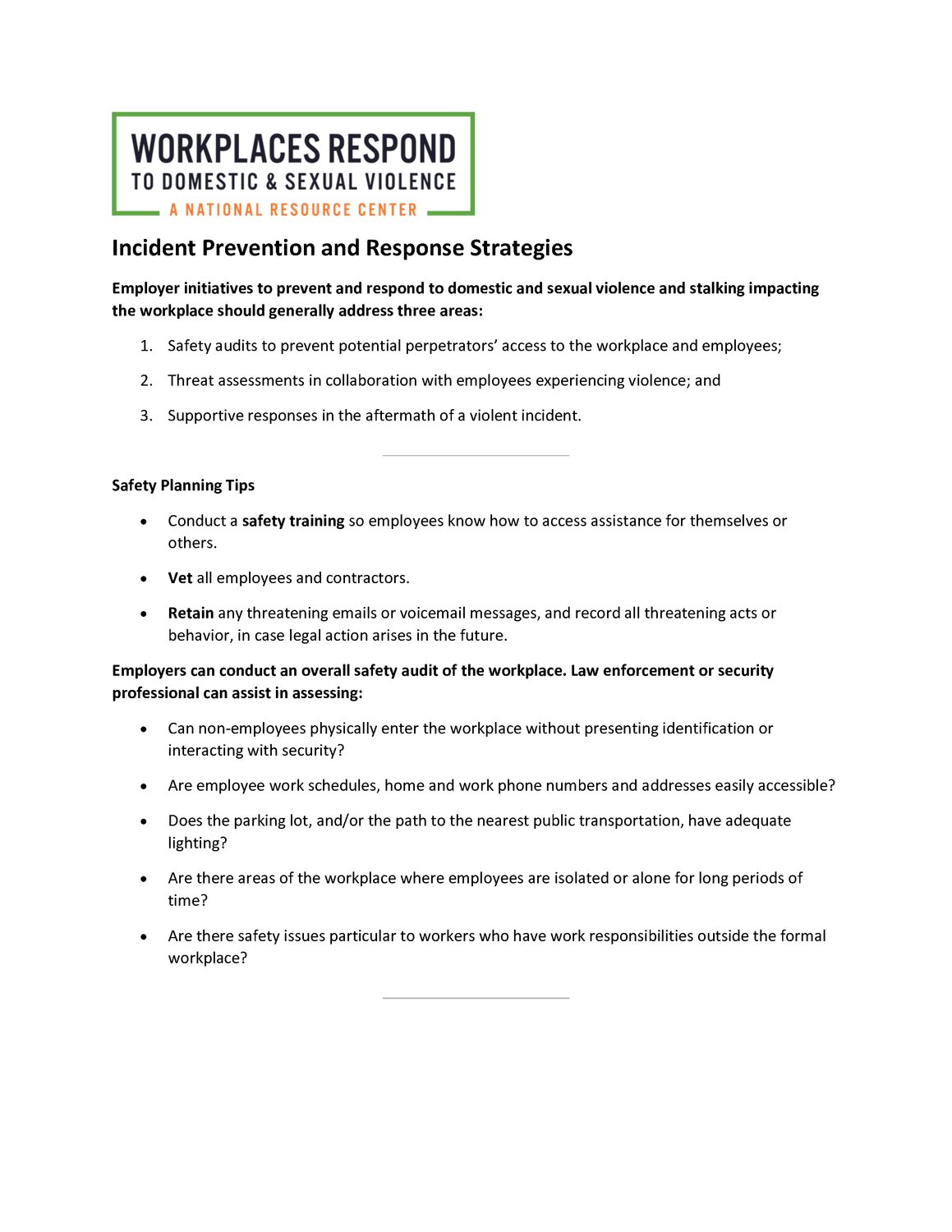 Incident Prevention and Response Strategies PDF This four page document outlines some employer initiatives to prevent and respond to domestic and sexual violence and stalking impacting the workplace. Download this PDF for safety planning tip, employee-centered threat assessments, and steps to take following an incident.
—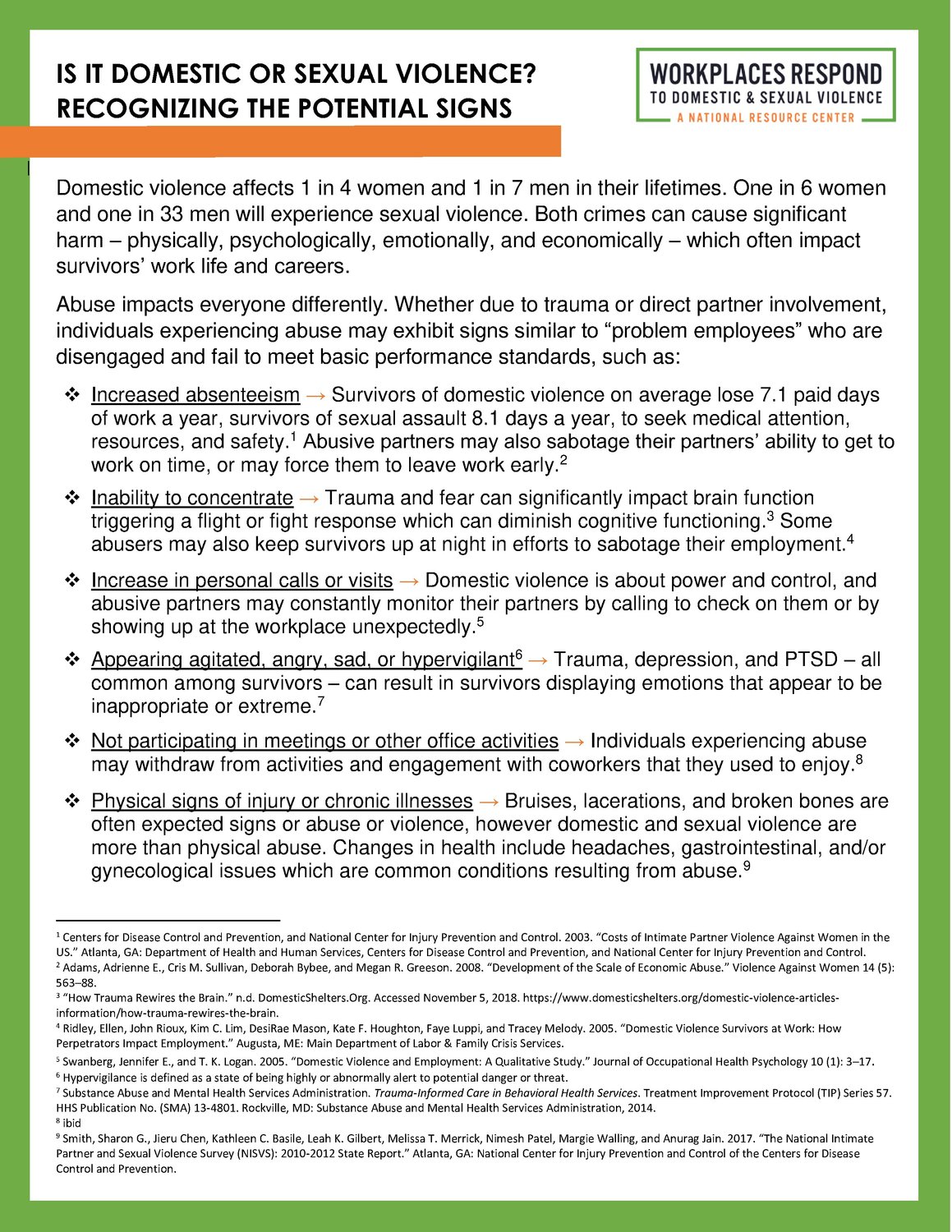 Recognizing the Signs of IPV in the Workplace This two-page synopsis of how to identify signs of intimate partner violence in the workplace is a helpful and quick reference tool. Download to share with all employees in a centralized location or include in your company's employee handbook.
—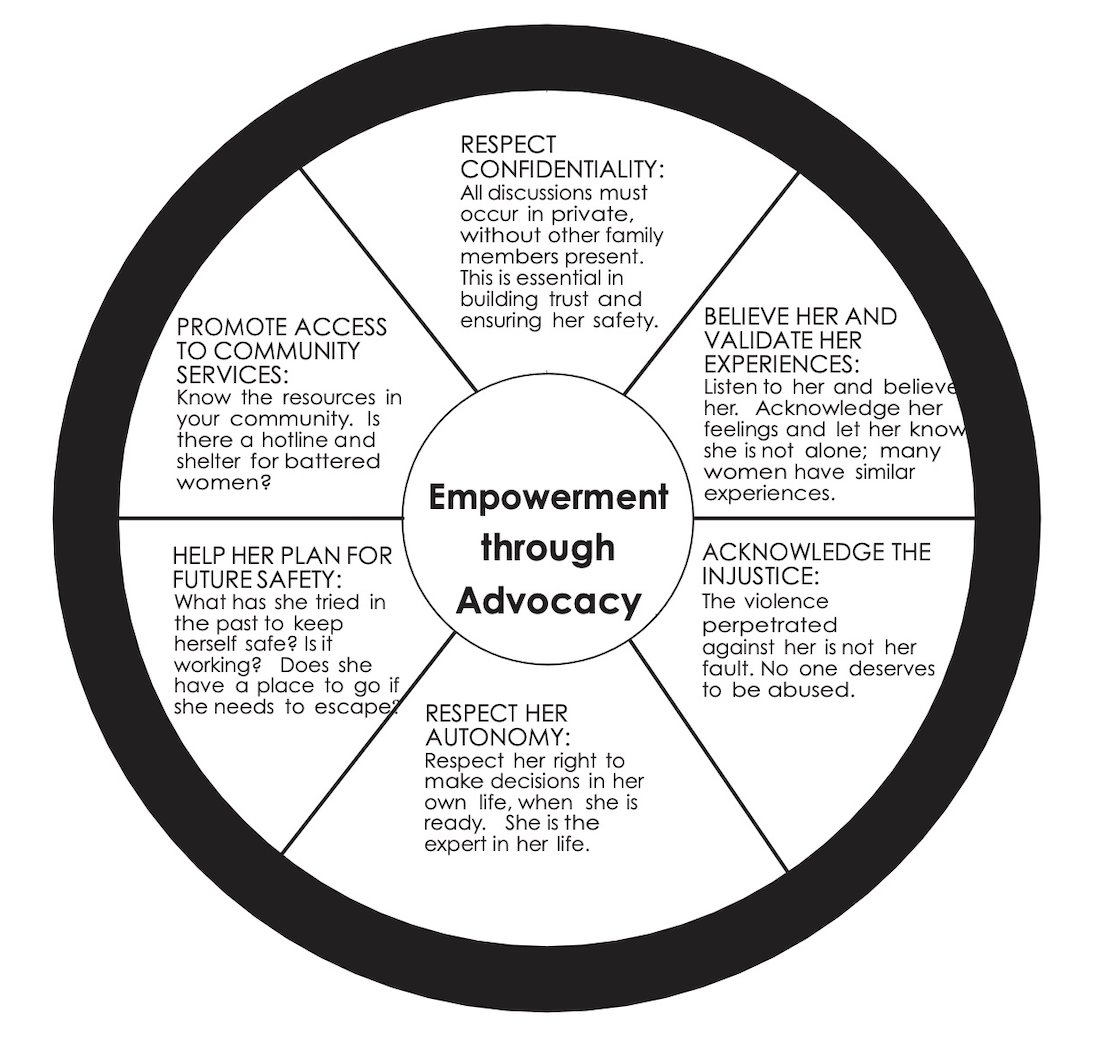 Advocacy Empowerment Wheel PDF Created by the National Center on Domestic and Sexual Violence, this wheel depicts the major components which engender empowerment through advocacy. Download this one-sheet visual to post in a centralized location for all employees.
—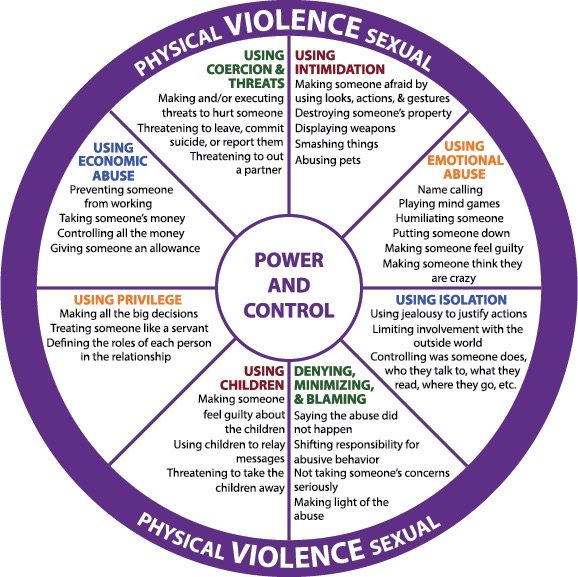 Power and Control Wheel PDF This one-sheet infographic shows the eight primary ways a perpetrator can exert power and control over their victim. Download this PDF to post in a centralized location for all employees.
—
Training Videos
Watch all four training videos. Duration: 25:32 minutes
Watch video part 1. Duration: 5:59 minutes
Watch video part 2. Duration: 5:40 minutes
Watch video part 3. Duration: 7:03 minutes
Watch video part 4. Duration: 6:50 minutes
Local Support Services
We are grateful to live in a community in which there is a variety of incredible support services for victims of intimate partner violence.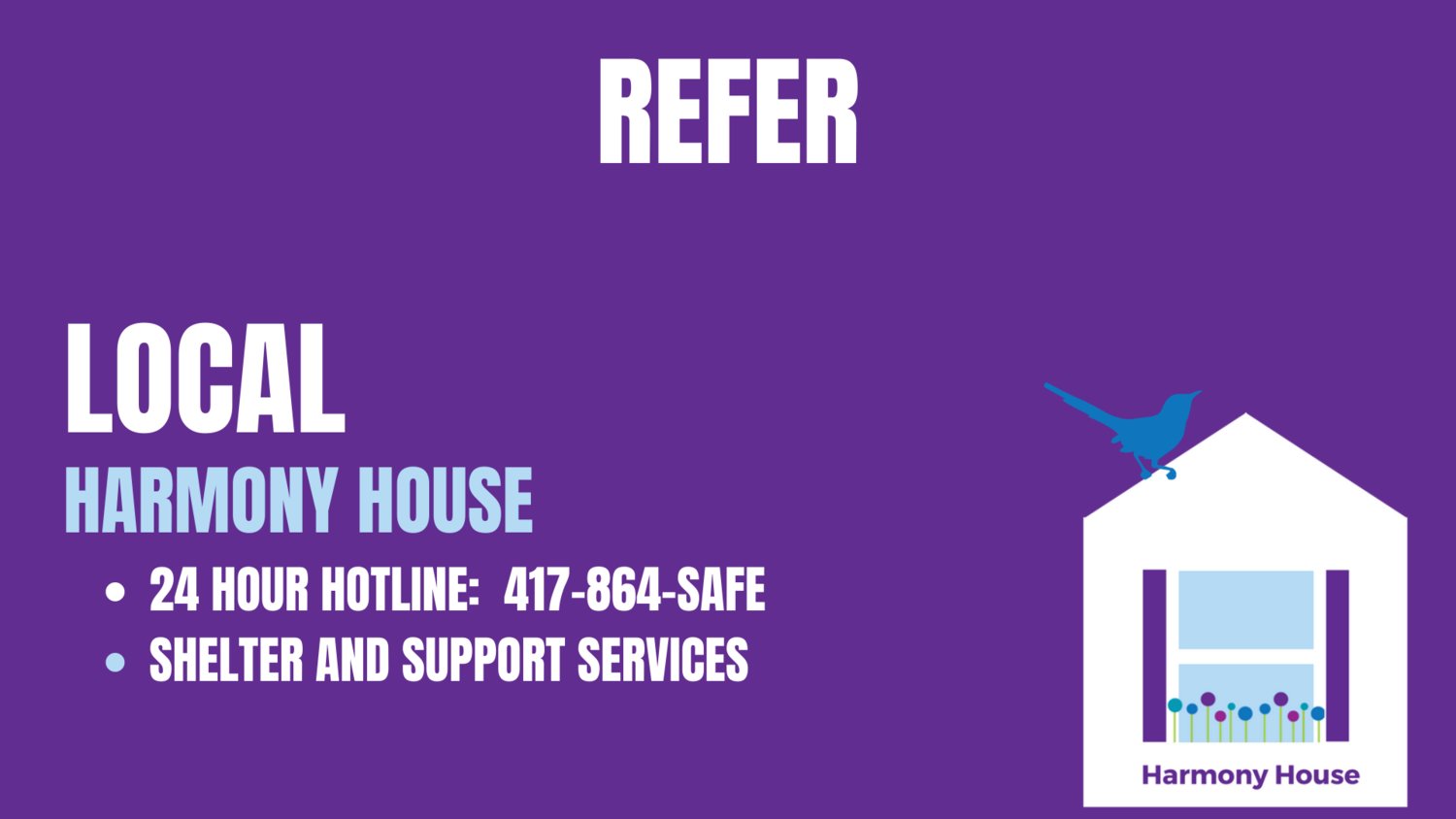 Harmony House is the only emergency shelter in the Springfield/Greene County area, providing a wide array of support services to victims including safety planning, emergency shelter, case management services, trauma informed therapy, and outreach support – all free of cost.
Harmony House also operates a 24/7 hotline that is staffed with well-trained, compassionate advocates, available to anyone in Springfield/Greene County, and offers a variety of workshops and education services to community organizations, including trainings for local businesses on workplace response.
—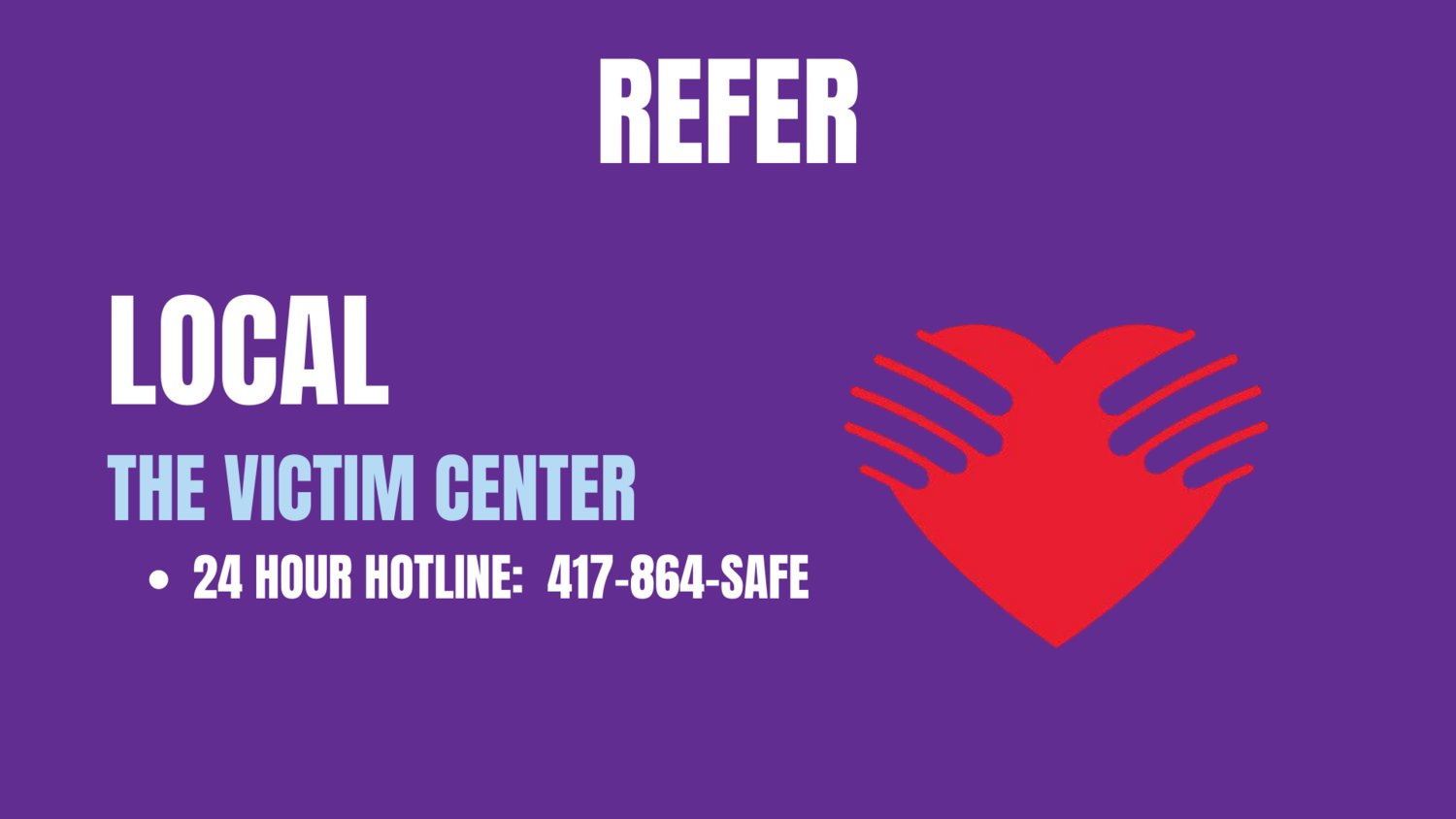 In addition to Harmony House, the Victim Center is another excellent resource in our community that provides free of cost therapy and support groups to victims of violent crime, as well as medical advocacy.
—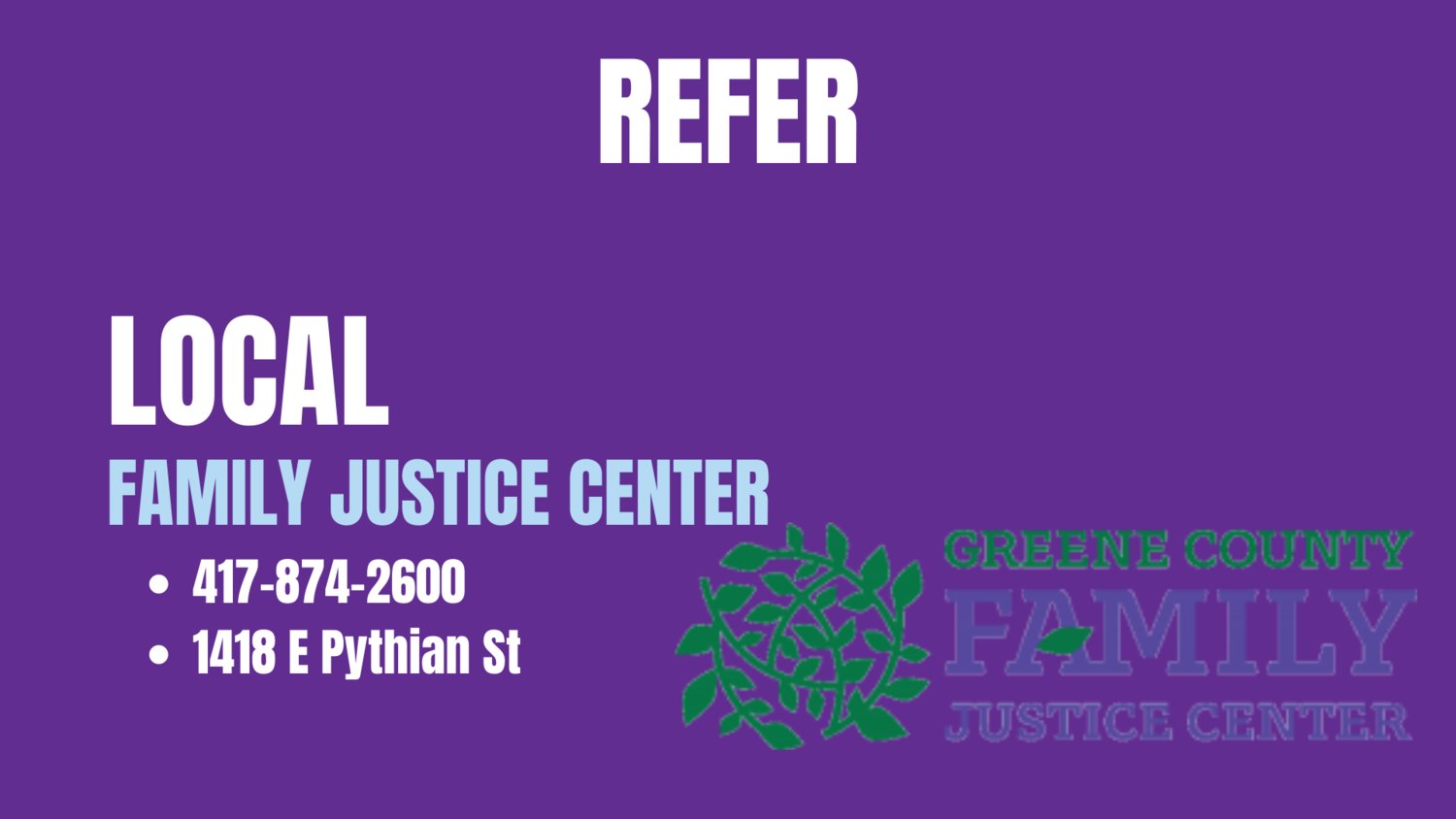 The Greene County Family Justice Center is another fantastic resource. The Family Justice Center is essentially a one-stop shop for individuals experiencing violence to gain access to many of the services our community has to offer. Folks accessing the Family Justice Center can speak with legal services, mental health services, law enforcement, Harmony House, The Victim Center, and more.
—
National Support Services
In addition to the local resources mentioned, there are many national resources that can provide support and assistance for both employers and potential victims.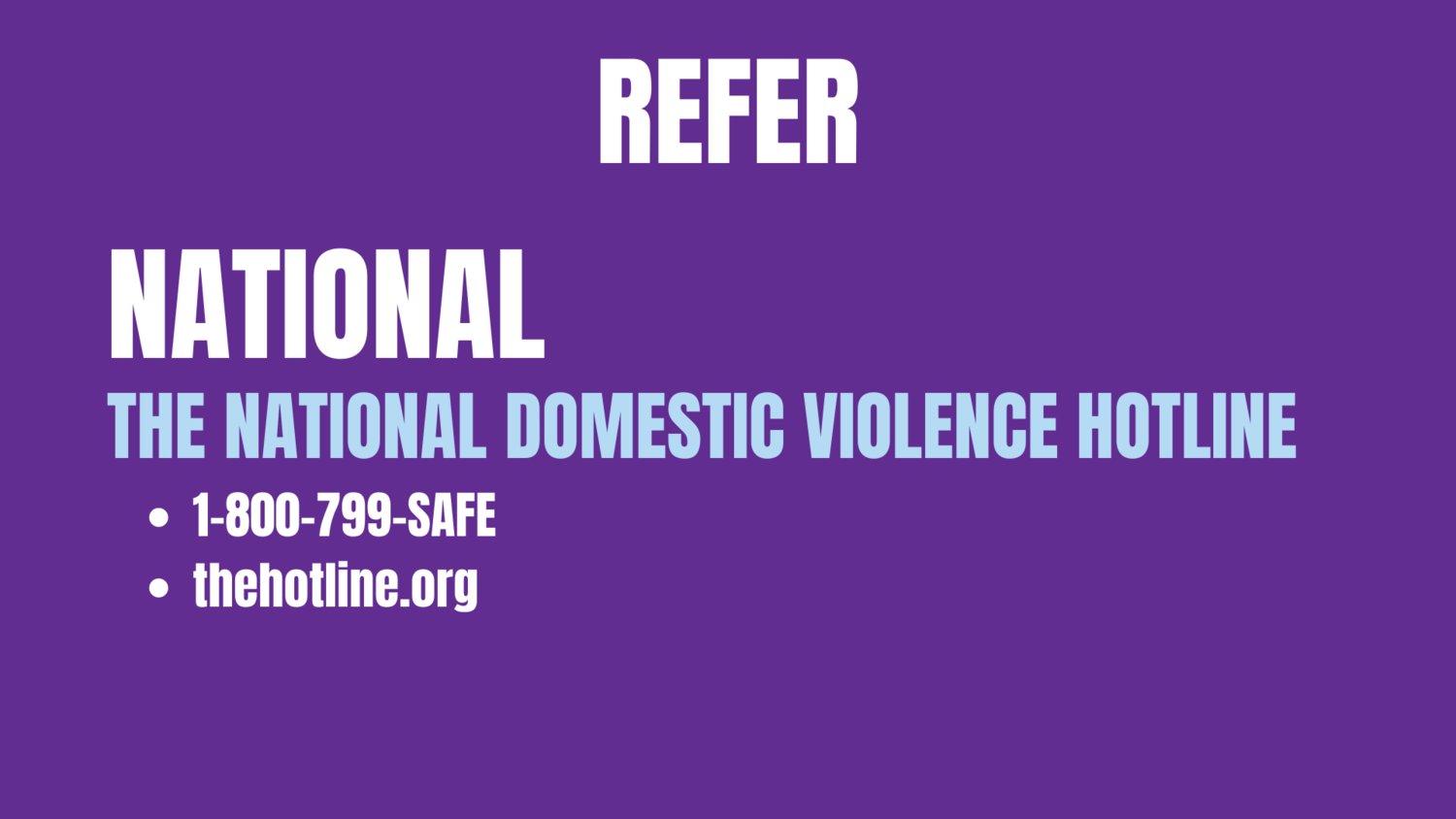 The National Domestic Violence Hotline connects victims to support services all over the nation, providing advocacy and support services in over 200 languages. They provide 24/7 talk and text support to victims, families of victims, any anyone else needing support related to intimate partner violence.
—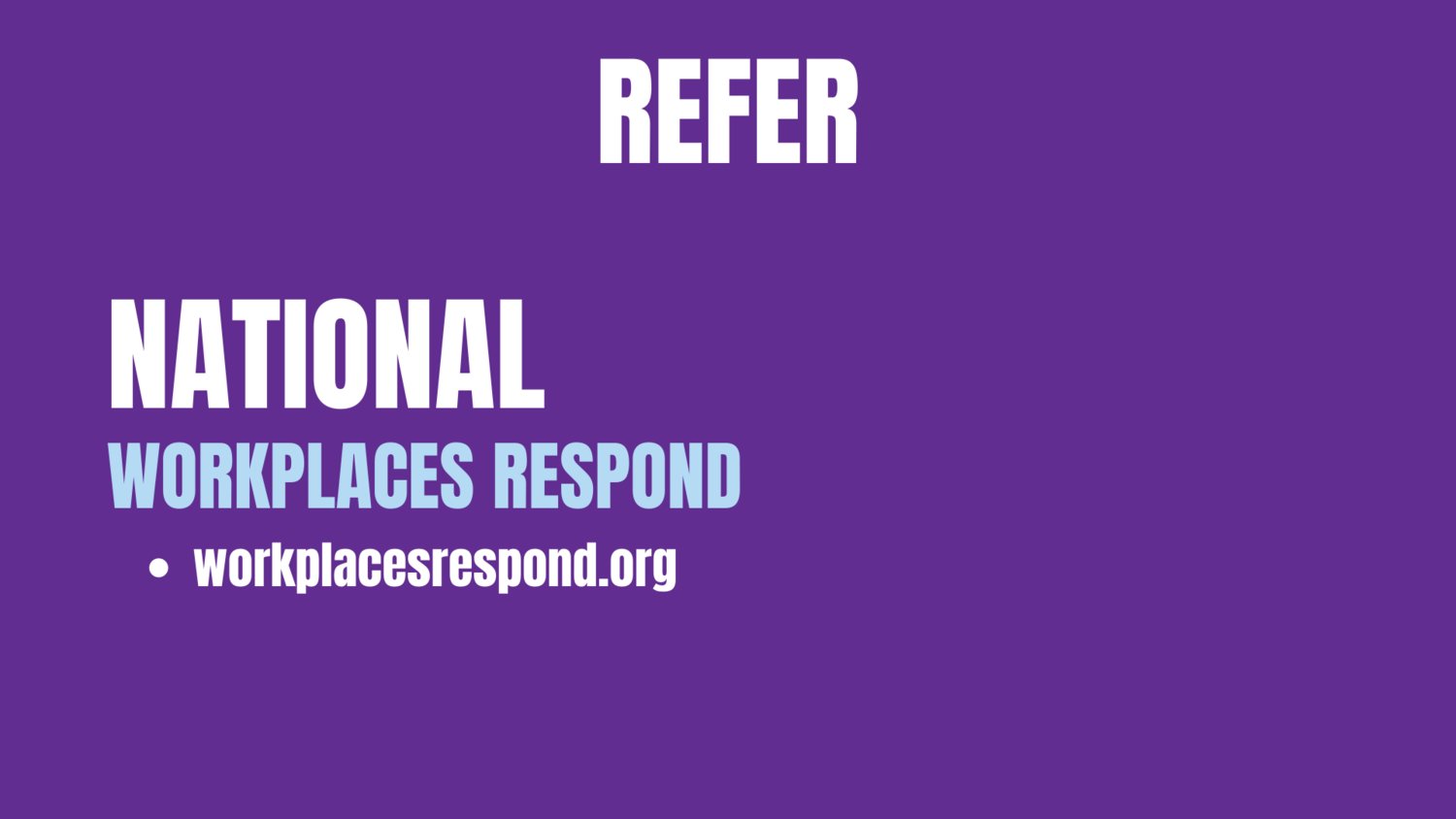 Workplaces Respond, as we've mentioned in previous videos, is the national leader in providing support to employers on creating workplaces free from violence. Workplaces Respond has countless resources for employers, such as model policies, model trainings, incident response, and so much more.