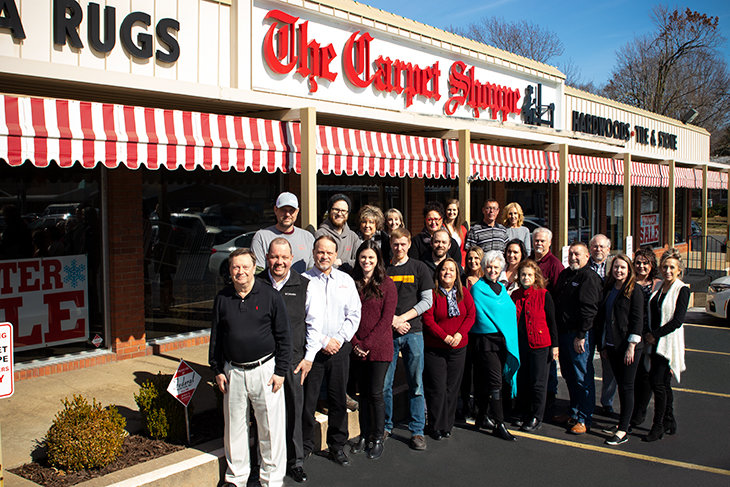 Founded in 1970 by Dale Pearce, The Carpet Shoppe just celebrated 48 years in December. "We're a heritage brand in Springfield because we've been around so long but we're also excited to bring our expertise to new customers and those who support the shop local movement," says Kent Schnurbusch, General Manager.
The Carpet Shoppe launched a new website in January that offers a dimension of functionality by allowing customers to browse products, view specials, view recently completed projects, request an estimate, and learn more about the business.
Technology seems to touch almost every aspect of home and business now and The Carpet Shoppe is no exception.
"Technology is making what we do easier and helps us save the customer money. It's easier to estimate jobs with the least amount of waste," says Schnurbusch. "For instance, we can optimize where we put carpet seams and we can electronically draw the room layouts manually or take it straight from construction drawings."
Designers and installers can create transitions, account for stairs, borders, walls, tile patterns, and numerous other variables to make sure every cost and detail of the job is accounted for. The result of this is a detailed drawing that goes to the salesperson and installer to ensure the most efficient use of material and labor for the job, which saves the customer money and prevents any surprises during installation.
In addition to all the technology upgrades, The Carpet Shoppe is getting a showroom update to highlight the newly offered custom bathroom design services. "We're undergoing showroom updates to better showcase our products. Our new tile bathrooms will be the showpieces so prospective clients know what we can do with custom bathroom design," says Schnurbusch. The demand for custom shower and bath design has been growing steadily in the last few years.

• 1827 E Seminole St
Springfield, MO 65804
• thecarpetshoppe.com
• (417) 883-6455